Yay, so we found suits for our wedding! Thank you, Men's Wearhouse buy one, get one free sale! So Thom and I knew that we wanted linen suits (to go with our beachy, tropical, tiki vibe), but the first time we went to our local MW store a few weeks ago, they didn't have our corresponding sizes in both the jackets and slacks, and for some reason they weren't exactly very forthcoming about helping us find them. (Also, we were still a little non-committal about what we were looking for.)
Fast forward past my obsessive checking of the MW website, my calls to customer service, and finally to a few days ago when I called up our local store. It really goes to show how much things can change when you get different, more helpful people. The lady on the phone was so helpful, and ordered our slacks, which came last Friday. We went in to have them sized for alterations; Thom was able to find a jacket in the store in his size, and mine will be ordered and arrive in a few days.
I should've brought a camera! I guess this is our equivalent "trying on the dress" kind of moment. Well, I'll try and take pics when we go back for the fitting. The salesperson was really nice, and when we told her that we're getting married, she congratulated us and was totally great.
But the best thing (and mostly the reason we tried to stick with MW despite an ambivalent beginning) is their buy one, get one free sale — we got both our suits for the price of one! It applies to selected styles only (the paid/free pairs of items don't have to match), and I think they've extended the sale to mid-July.
So our Calvin Klein tan linen suits look like this: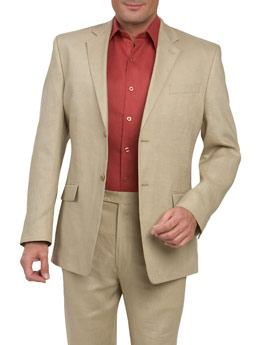 We'll be wearing them with colored shirts (perhaps chocolate), and neckties in our colors: chocolate, pool, and/or sage (yet to be found). Yay, progress!
This entry was posted on Tuesday, July 7, 2009 at 1:20 pm and is filed under Wedding. You can leave a comment and follow any responses to this entry through the RSS 2.0 feed.